Vipul Patel, M.D.
Board Certified Orthopedic Surgeon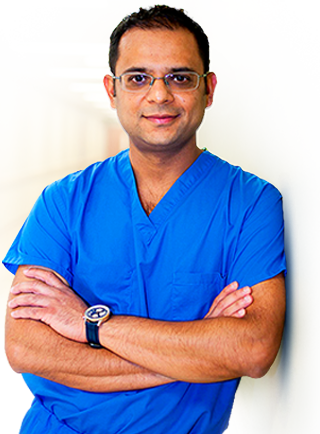 Dr. Patel is a board-certified Orthopedic surgeon currently practicing in Park Slope, Brooklyn, NY. He also serves as Assistant Professor of Orthopedic Surgery at New York University's Langone Hospital for Joint Diseases. He also teaches orthopedic surgery residents at the SUNY Downstate Medical Center. Dr. Patel's expertise is in complex hand and upper extremity problems with a focused approach in both nonsurgical and surgical solutions. He has extensive experience in the surgical and non-surgical care of: General orthopedic conditions, fractures of the elbow, forearm, wrist and hand; arthritis of the wrist, thumb and fingers; flexor and extensor tendon injuries; chronic and acute wrist pain and tendonitis problems; nerve lacerations and compression syndromes (cubital, carpal tunnel); tumors, and infections and reconstruction of arthritic conditions.
Trained at Harvard Medical School, NYU Hospital for Joint Diseases, and SUNY Downstate Medical Center, Dr. Patel is sub-specialized in Hand, Upper Extremity and Microvascular Surgery. Through his residency training at in NYU/ Hospital for Joint Diseases, one of the nation's top orthopedic surgery residency programs, and his subsequent fellowship at Harvard/Massachusetts General Hospital, Dr. Patel has become one of the few hand surgeons in the nation to have extensive experience in complex hand and upper extremity conditions.
Dr. Patel has also obtained additional microsurgery training at the Microsurgery Training and Research Laboratory at New York-Presbyterian Hospital/Columbia University Medical Center and also completed a fellowship in Orthopedic Biomechanics at the Musculoskeletal Research Center at Hospital for Joint Diseases, giving him a unique perspective in the treatment of his patients based on an acquired understanding of the biomechanics of the musculoskeletal system. His practice also offers recent advances in regenerative medicine, including stem cell therapy (Read more)
Throughout his career Dr. Patel has held prestigious medical roles including serving as the in-house physician for Madison Square Garden, the Alvin Ailey American Dance Theater and the Martha Graham Dance School. Dr. Patel has also donated hundreds of hours to charitable causes, conducting pro-bono services for underserved populations in countries like Guatemala and India, and has a passion for teaching-- both at near-by residency training programs in the New York City Metro Areas and as far-away as rural hospitals in India where has had the opportunity to educate international surgeons how to help patients in their communities.
He has numerous publications in peer-reviewed journals, has authored several book chapters in his field of expertise and has presented at National and Regional Orthopedic Surgery/Hand Surgery Annual meetings. Dr. Patel has received numerous accolades for his clinical excellence including awards at the 2005 and 2006 Annual Smith and Nephew National Resident Research Competition and the Senior Resident Research Award for basic science research in orthopedic surgery at NYU.
Dr. Patel is committed to patient care and outcomes, and his approach to medicine is "patient centered decision making". He believes that shared decision making after thoroughly understanding the condition is the best road to clinical outcome and patient satisfaction.
Click here to learn more about Dr. Patel's charity work and involvement in international medical missions.
Fellowship
Harvard Medical School
Massachusetts General Hospital, Boston, Massachusetts
Hand and Upper Extremity Fellowship Program
08/1/08-07/31/09
Residency
New York University
Hospital for Joint Diseases, New York, New York
Orthopaedic Surgery Residency Program
07/02-07/08
Research Fellowship
Musculoskeletal Research Center, Hospital for Joint Diseases
June, 2004 to June, 2005
Internship
New York University, New York, New York
General Surgery Internship
07/02-07/03
Medical School
State University of New York at Brooklyn, Downstate
7/2000-7/2002
Undergraduate
Sophie Davis School of Biomedical Education – CUNY
7 Year B.S/M.D. Program
7/1995-7/2000
Licensure and Certification
New York State Medical License, 2002
American Board of Orthopaedic Surgery, 2011
American Society for Surgery of the Hand
Sathappan SS, Ginat D, Patel VP, Walsh M, Jaffe W, DiCesare PE. Effect of Anesthesia on Limb Length Discrepancy Following Total Hip Arthroplasty. J Arthroplasty. 2008 Feb;23(2):203-9
Patel, VP., Sehgal, B., Preston, C., Walsh, M., Di Cesare PE: Factors associated with prolonged wound drainage following primary Total hip and knee arthroplasty. JBJS Am 2007 Jan;89(1):33-8
Patel, VP., Bong, M.R., Di Cesare, P.E.: Heparin Induced Thrombocytopenia and Thrombosis. Am J Orthop. 2007 May;36(5):255-60. Review.
Walsh M, Preston C, Bong M, Patel V, Di Cesare PE Relative risk factors for requirement of blood transfusion after total hip arthroplasty. J Arthroplasty. 2007 Dec;22(8):1162-7
Bong, M.R., Patel, V., Chang, E.Y., Issack, P.S., Hebert, R., Di Cesare, P.E.: Risks Associated with Blood Transfusion after Total Knee Arthroplasty. J Arthroplasty 19(3):281-7, 2004.
Bong, M.R., Patel, V., Iesaka, K., Egol, K.A., Kummer, F.J., Koval, K.J.: Comparison of a Sliding Hip Screw with a Trochanteric Lateral Support Plate to an Intramedullary Hip Screw for Fixation of Unstable Intertrochanteric Hip Fractures: A Cadaver Study. J Trauma 56(4):791-794, 2004.
Vigler M, Palti R, Goldstein R, Patel VP, Nasser P, Lee SK. Biomechanical study of cross-locked cruciate versus Strickland flexor tendon repair. J Hand Surg Am. 2008 Dec;33(10):1826-33.
Patel VP, Paksima N. Complications of distal radius fracture fixation. Bull NYU Hosp Jt Dis. 2010;68(2):112-8.
Patel VP, Jupiter JB. Chapter: Reoperative Issues Following Carpal Bone Fracture Surgery. Reoperative Hand Surgery. Edited by Scott F.M. Duncan. 2010
Patel VP, Sang Gil-Lee. Chapter 10: Variants of the Kite flap. Flap Reconstruction of the Upper Extremity: A Master Skills Publication. Edited by Ghazi M. Rayan, MD and Kevin C. Chung, MD. 2009
Author: First Aid for Surgery – Chapter: Orthopedic Surgery – McGraw Hill Companies
Author: First Aid for Psychiatry – Clinical Vignettes throughout, McGraw Hill Companies, 2003
Author: First Aid for Neurology – Chapter: Introduction to Neuroanatomy, McGraw Hill Companies, 2006
Author: First Aid for Obstetrics and Gynecology – Clinical Vignettes, McGraw Hill Companies, 2006
Bong, M.R., Patel, V., Iesaka, K., Egol, K.A., Kummer, F.J., Koval, K.J.: Comparison of a Sliding Hip Screw with A Trochanteric Lateral Support Plate to an Intramedullary Hip Screw for Fixation of Unstable Intertrochanteric Hip Fractures. 2003 American Academy of Orthopaedic Surgeons 70th Annual Meeting. Poster Presentation. New Orleans, Louisiana
Bong, M.R., Patel, V., Chang, E., Issack, P.S., Hebert, R., Di Cesare, P.E.: Which Patients Undergoing Total Knee Arthroplasty Should Predonate Blood? 2003 American Academy of Orthopaedic Surgeons 70th Annual Meeting. Poster Presentation. New Orleans, Louisiana, February 2003.
Preston, C.F., Bong, M.R., Patel, V., Heibert, R.N., Di Cesare, P.E.: Role of Autologous Blood Donation and Cell Saver on Transfusion Rates after Total Hip Replacement. 2005 American Academy of Orthopaedic Surgeons 72nd Annual Meeting. Poster Presentation. Washington, DC, February 2005.
Patel V, Preston CF, Di Cesare PE. Factors associated with prolonged wound drainage following a Primary Total Hip Arthroplasty. 2005 American Academy of Orthopaedic Surgeons 72nd Annual Meeting. Podium Presentation. Washington, DC, February 2005.
Patel V., Sehgal B, Preston C.F., Walsh M, Di Cesare P.E. Factors Associated with Prolonged Wound Drainage Following a Primary Total Knee Arthroplasty. 2006 American Academy of Orthopaedic Surgeons 73rd Annual meeting: Chicago, IL, February 2006. Poster Presentation.
Kwon YW, Jarit GJ, Patel V, Fulkerson EF. "Histological and morphological analysis of a Rat model of osteonecrosis." 2006 American Academy of Orthopaedic Surgeons 73rd Annual meeting: Chicago, IL, February 2006. Podium Presentation.
20th Smith & Nephew Resident Research Competition. Factors associated with prolonged wound drainage following a Primary Total Hip and Knee Arthroplasty. 2006
21st Smith & Nephew Resident Research Competition. The role of Estrogen in Osteoarthritis: Is it chondroprotective or chondrodestructive?2007
Vigler M, Palti R, Goldstein RY, Patel V, Nasser P, Lee SK. Cross Locked Cruciate vs Strickland Flexor Tendon Repair: a Biomechanical Study. Podium Presentation at American Academy of Orthopaedic Surgeons Annual Meeting, March 7, 2008, San Francisco, CA
Patel V, Soojian M, Egol KA, Paksima N. Fracture of the distal ulna metaphysis in setting of a Distal Radius fracture. Podium Presentation at American Academy of Orthopaedic Surgeons Annual Meeting, March 7, 2008, San Francisco, CA
Dean's List, CUNY Medical School 1995-2000
Mack Lipkin Broaders Horizon Research Fellowship June 1998
Alpha Omega Alpha Honor Society, SUNY Downstate 2001
Best Clinical paper Award – 20th Annual Smith and Nephew Resident research competition, Memphis TN Aug 2005
Best Basic Science paper Award – NYU HJD Senior Resident research Presentations, May 2008
Resident House physician Alvin Ailey American Dance Theater
Martha Graham Dance Company
Madison Square Garden
12/03-07/08